Overview
This article explains how to connect and how the Ujoin integration works with Kindful.
Linked Articles:
- Create and Edit a Group of Contacts
---
Connecting Ujoin
Ujoin change lives by making it easy to advocate and get policy wins. Influence city/county councilors, department chairs, state/federal legislators, or any decision-maker.
To connect, you can do so from the Kindful App Directory by clicking Connect in the Ujoin App Settings.
Next select Login (or Sign Up) from the Ujoin interface.
Authorize the applications to connect.
---
How the Integration Works
Ujoin will send Kindful any Ujoin contact that takes an action on a Ujoin action page. The Ujoin contact data includes:
Ujoin user ID
First Name
Last Name
Email Address
Address 1
Address 2
City
State
Postal Code
Country
Phone
Ujoin will send the title of the action page the new contact took action on, and this action title will become the Group title in Kindful.
Here are the steps to configure Ujoin, and how the information will come into Kindful.
1. Create a Ujoin action page

2. Share the URL of your Action Page (hosted on Ujoin or embed the action page into your own site)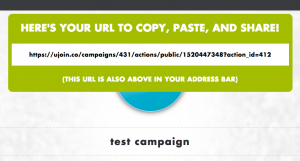 3. People start taking action on your page.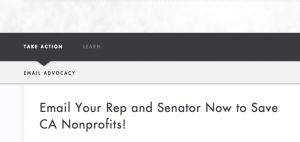 4. The signers of your action page automatically get put into a "Group" inside of Kindful. If the signer is someone new they will be added to your list.
Of note: Contacts will be matched by First Name + Last Name + Email (or email if that is all that is received).